Composite railway sleepers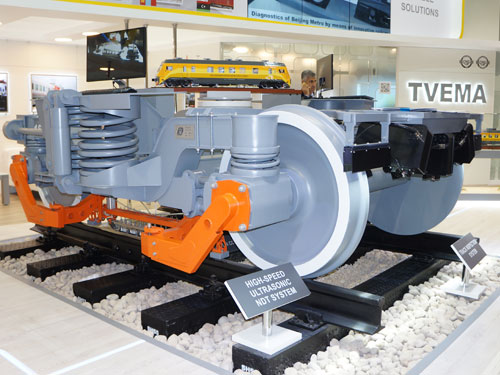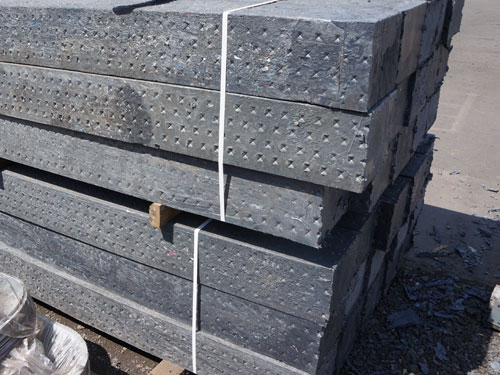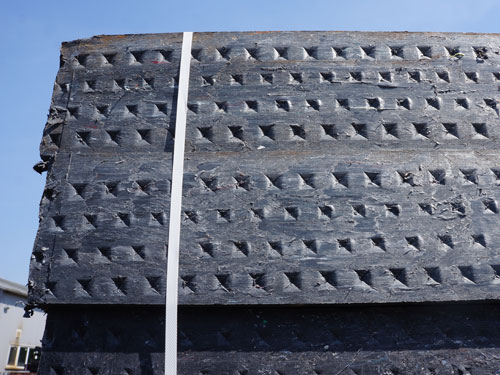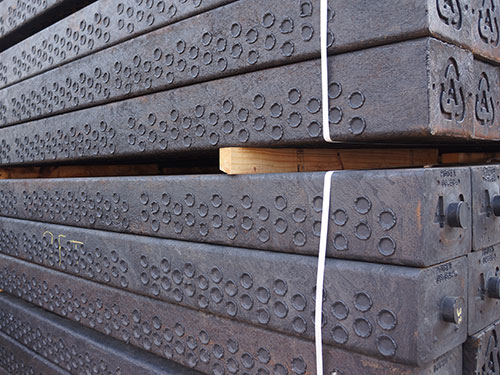 In 2013, TVEMA launched the production of composite sleepers according to specifications agreed with All-Russian Scientific Research Institute of Railway Transport (ОАО «VNIIZHT»).
Composite sleepers from TVEMA conform to operation and maintenance requirements for railway tracks and switches, railway tracks of industrial plants, metro and tram lines of all classes.
Sleepers made of polymer composite materials include a polymer matrix from recycled high-density polyethylene.
The main advantages of such sleepers include durability, simple installation and environmental friendliness.
Operational advantages
Tests performed by ОАО «VNIIZHT» demonstrated that composite sleepers manufactured by TVEMA are one and a half times stronger than new wooden sleepers and are almost three times lighter than reinforced concrete sleepers. They have excellent resistance to decay, mould, moisture and electro-insulating properties. Finally, they have low wear and long service life. Such sleepers can be used at the tracks with axial load up to 30 tones per axle, and their service life, subject to repair, reaches half a century (three times longer that the life of the wooden sleepers).
These composite sleepers preserve their physical and mechanical properties at ambient temperatures ranging from +50°С to -70°С when exposed to salt, gasoline and oil. Composite sleepers have high resistance to shock load and deflection. They help to reduce noise and vibration, thereby reducing destruction of the railway track, minimizing running maintenance and the number of repairs.
Installation features
The installation of the composite sleepers does not require any special training or equipment. They are laid with the help of conventional equipment for wooden sleepers. However composite sleepers do not require the installation of electro-insulating components and damping pads.
Ecological properties
Made of 100% recycled materials, a composite sleeper does not contain any toxic substances and does not cause corrosion. The sleeper does not contain wood or any wooden products. The use of any form of metal in it in is excluded.
The deterioration of the sleeper condition under the influence of ultraviolet light (direct sunlight) does not exceed 0.08 mm per year. The lost material is non-toxic and is not washed into ground water.
Composite sleepers may be produced from almost any recycled plastic – from used bottles to obsolete carpets. In other words, the waste with a long decomposition cycle instead of being the element of polluting the environment becomes the raw material for producing eco-friendly products which are recyclable and reusable. The last fact is particularly important compared, for instance, with wooden sleepers treated with creosote whose operation and recycling are environmentally hazardous.
Each kilometre of a track equipped with our sleepers helps to prevent the storage of tens of tons of plastic waste at the dump sites and environmental pollution. Choosing our sleepers you make an environmentally sound choice!
* * *
Composite sleepers from TVEMA have a long life cycle. They are serviceable, recoverable, fully recyclable and ensure low operating costs. Fire certificate is available.
At present, ОАО «VNIIZHT» performs all types of tests of our composite sleepers with an operating run up to 500 million tons gross per kilometre of a track. More than 230 million tons have been tested without any signs of wear. The pilot lot of sleepers is also laid in the Moscow Metro and on the trial circle of ОАО «RZD» (Russian Railways) in the Moscow district Scherbinka.
Today, the production of the composite sleepers most actively develops in the USA with its largest in the world railway sleeper market. Russia is the second largest market of sleepers and the production of composite sleepers is potentially promising and attractive for investments.